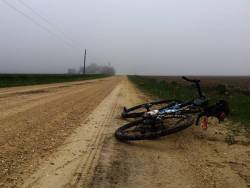 The Colesburg Gravelpocalypse is a gravel road bike race that takes place near Colesburg, Iowa, with 20, 40, and 100-mile route options. Racing starts at 8:30am from the Colesburg City Park. Categories for SS, FAT, Road/Cross, Tandem, Mountain, Overall. Awards: Cash, high fives, beer.
The Colesburg Gravelpocalypse is one of the longest-running gravel races in the Midwest. Camping is available at the city park. Restrooms on site. Please do not litter and please pick up after yourself, they are letting us use their park. Be courteous.
Event Info:
Date
Ride
09-03-2018

Colesburg Gravelpocalypse 20/40/100

-

A very hilly gravel road race held near Colesburg, Iowa.