Kansas Bicycle Rides & Events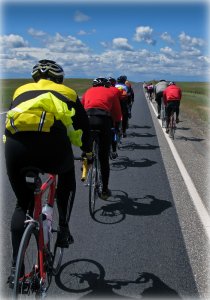 Kansas bicycle rides are scheduled around the entire state and throughout the year, particularly in the spring, summer, and fall. There are always new sights to see, new country to explore, and new friends to make. The big event of the year is the annual Biking Across Kansas tour that takes place each June, and attracts cyclists from all over the world, but there are many more rides to look forward to, whether you're into on-road or off-road cycling.
A Few Random Rides & Events
Santa Fe Trail Fall Bike Ride

Come, enjoy the low water bridges, stone fences, old stone homes, little to no traffic and many rolling hills and high vistas around Alta Vista, Kansas.

Bike MS: Kansas City Ride

Bike MS is a two-day bicycling fundraiser for the National Multiple Sclerosis Society. The 150 mile, two-day ride begins in Olathe or Topeka, overnights in Lawrence, and ends in Olathe.

Lunar Kanza

A fun, leisure night-time bike ride, conducted under a full moon on the gravel roads surrounding Emporia, Kansas. About 50 miles.

Lizard Under the Skillet

What better way to beat the heat than to come out to Lawrence, Kansas, and ride the Lizard Under the Skillet. There will be 30, 40 and 65 mile options available to ride.

Kansas Adaptive Cycling Omnium

The Wichita Adaptive Cycling Omnium has been a staple of the U.S. Handcycling Series for many years, and includes three races, as well as a recreational ride.
Bicycle Rides and Events in Neighboring States
Other Related Events