Kansas Bicycle Rides & Events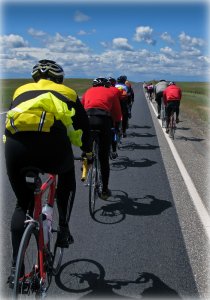 Kansas bicycle rides are scheduled around the entire state and throughout the year, particularly in the spring, summer, and fall. There are always new sights to see, new country to explore, and new friends to make. The big event of the year is the annual Biking Across Kansas tour that takes place each June, and attracts cyclists from all over the world, but there are many more rides to look forward to, whether you're into on-road or off-road cycling.
A Few Random Rides & Events
Wicked Wilson 100

A tough but fun gravel race/ride that takes place in the hill country around Wilson State Park near Wilson, Kansas. 102 miles with full support.

Amelia Earhart Century

An annual ride that takes place each June in Atchison, Kansas, and offers 35, 62, and 100-mile routes through the rolling farmland of northeast Kansas.

Wyco's Revenge MTB Race

An annual Mountain Bike Race that takes place on the awesome Wyandotte County Lake Park Trails in Kansas City, Kansas. Find out why these trails are called 'Kansas City's Best Kept Secret'.

Kansas City's tastiest event on two wheels takes you on a tour of some of Kansas City's finest barbeque restaurants, and raises money for the fight against cancer.

Walnut Valley Metric

This fundraising ride for Prairie Travelers takes place in Winfield, Kansas and offers 35 and 65 mile options.
Bicycle Rides and Events in Neighboring States
Other Related Events