Kansas Bicycle Rides & Events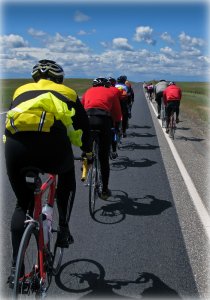 Kansas bicycle rides are scheduled around the entire state and throughout the year, particularly in the spring, summer, and fall. There are always new sights to see, new country to explore, and new friends to make. The big event of the year is the annual Biking Across Kansas tour that takes place each June, and attracts cyclists from all over the world, but there are many more rides to look forward to, whether you're into on-road or off-road cycling.
A Few Random Rides & Events
Sand Creek Cyclocross Challenge

A cyclocross race taking place at Centennial Park in Newton, Kansas.

Tour de Lyon County

An annual gravel road bicycle event that takes place in Lyon County, Kansas. 105 miles.

YMCA Bike Rodeo

This Bike Safety Rodeo takes place at Paul Henson Family YMCA in Prairie Village, Kansas.

Critical Mass Topeka

Critical Mass Topeka is a group of cyclists that flock to the streets once a month to promote cycling rights on the road.

Cruise the Blues

Cruise the Blues is a mountain bike festival taking place at Palen Family Farms located east of Tipton in North Central Kansas, and featuring 13 miles of trails winding through the creeks, pastures, native grass, and croplands on the farm.
Bicycle Rides and Events in Neighboring States
Other Related Events